Virumin 3 Cereals
The present economic situation, lack of funds for medicines and basic food products, hectic and intensive life result in that we begin to come back to the roots, at the same time appreciating the forgotten cereals and bran as well as food products manufactured directly from them.
This is why the Polish producer would like to present you with a unique and one-of-a-kind product which comprises a combination of as many as 3 cereals, the beneficial properties of which fell into oblivion and ceased to be appreciated.
A unique combination of the herb of oats and barley and buckwheat hull consists in an unusual dose of vitamins and minerals that are indispensable for our body.
HISTORY OF CEREALS
The history of buckwheat cultivation dates back to three thousand years and its origin is connected with the mountain regions of northern India and Pakistan, at the foot of the Himalayas. Then buckwheat reached China, Japan and Korea. Nowadays, it is cultivated by farmers of the whole hemisphere, and in particular in Asia, in the sub-Caucasian regions, Brazil and Europe.
Buckwheat was brought to Poland along with the invasion of the Tatars, this is why it is sometimes called the Tartary buckwheat (Fagopyrum tataricum). At present, the cultivation of buckwheat in Poland is most common in the south-east region (the region of Janów Lubelski). What is also cultivated in Poland is common buckwheat (Fagopyrum esculentum). Both buckwheat seeds and all of the parts of this plant comprise a direct and an indirect ally of a man.
This is also the case with the herb of oats. Oats (avena) is an annual plant which belongs to the family of grasses and includes about 35 species. They grow in the wild in the region of the Mediterranean Sea and Central Asia. The species that mainly grows in the wild in Poland is the common wild oat (Avena fatua), a weed. On the other hand Avena sativa is a typical species. Oats is now known and cultivated by all people of northern Europe. In order to characterise the activity of this unique plant, it is worth qouting an anecdotic conversation between an English and a Scottish professor.
The English professor says:
"Oats is feed for horses in England and food for people in Scotland."
The Scottish professor replies:
"I agree. This is why there are such beautiful horses in England and such brave people in Scotland."
Barley is also an annual plant and belongs to the family of grasses. Since the dawn of man barley has accompanied people as a cultivated, food, feed and curative plant. It was cultivated in ancient Mesopotamia, in Egypt, India, Greece and Rome. Barley used to be the most important plant of the early civilisations. It was used to bake bread and produce beer.
Beneficial activity of VIRUMIN 3 ZBOŻA
The tests conducted by laboratories SGS, BIOMOL-MED and HAMILTON indicated that VIRUMIN 3 ZBOŻA contains:
Barley as well as oats fibre (59.6g in 100g).
Folic acid (315% NRV) which, among others, assists proper blood production, proper aminoacids synthesis as well as appropriate functioning of the immune system. Folate participates in cell division and contributes to the growth of maternal tissues during pregnancy as well as helps to maintain the proper homocysteine metabolism.
Iron (189.5% NRV) which is important in the process of cell division and supports, among others, the proper red cells and haemoglobin production; it helps to properly transport oxygen in the body as well as supports the proper functioning of the immune system.
Riboflavin (vitamin B2 – 43.57% NRV) which helps to maintain the proper red condition of red cells as well as mucous membranes, supports the proper functioning of the nervous system, helps to maintain proper vision and contributes to the maintenance of the proper iron and energy metabolism.
Selenium (90.45% NRV) assists the proper functioning of the immune system and the thyroid as well as helps to maintain healthy hair and nails.
a także pomaga zachować zdrowe włosy i paznokcie.
Chromium (48.40% NRV) helps to maintain the proper blood glucose level and contributes to the maintenance of proper nutrient macrocomponents.
Zinc (43.40% NRV), among others, helps to maintain the proper acid-alkaline balance as well as the proper carbohydrates metabolism and vision. Zinc participates in cell division and assists the proper functioning of the immune system. Moreover, zinc helps to preserve healthy bones, hair, skin and nails.
Phosphorus (31.7% NRV), among others, assists the proper functioning of mucous membranes and the preservation of healthy bones and teeth as well as contributes to the maintenance of proper energy metabolism.
Molybdenum (30.16% NRV) which contributes to the maintenance of the proper metabolism of sulphuric aminoacids.
Let's be wise and follow the statement of Hippocrates of Cos:
"Let food be your medicine, and medicine your food. How can one who does not take this rule into account and ignores it understand human diseases?".
INGREDIENTS:
young barley (35%)
oats – herb (20%)

buckwheat hull (17%)
lemon grass

green tea
HOW TO PREPARE:
Put one VIRUMIN 3 ZBOŻA bag into a mug or cup and pour freshly boiled water (not boiling water).
Brew a cup or mug

Water temperature approx. 80°C.

Brew for 5 to 10 minutes.
APPLICATION:
1 bag three times a day, preferably 30 minutes before each main meal.
Store in a dry room, in room temperature. Protect from light. Keep away from children.
Three times a day 1 sachet
NUMBER OF PORTIONS IN THE PACKAGING
Packaging made from natural materials:
cotton, leather bottom. You can use storage porridge, rice, beans and so on.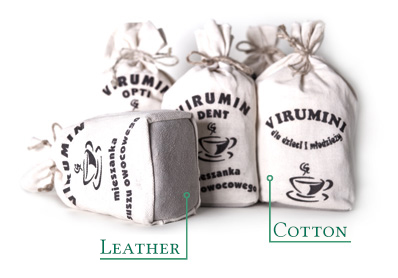 It is important to lead a healthy lifestyle and have a balanced diet. An advantageous effect can be observed in the event of everyday consumption of folic acid, iron, riboflavins, selenium, chromium, zinc, phosphorus and molybdenum contained in the infusion of three bags of the product.
The product and name reserved in the Patent Office of the Republic of Poland.
Nutritional value in 100g of product:
| Nutritional value information | Content in 100g of product | Unit | % of nutrient reference value* | In 1 bag (portion) |
| --- | --- | --- | --- | --- |
| Energy value (energy) | 895/218 | kJ/kcal | 10,6 | 3,58 kJ /0,872 kcal |
| Fat | 1,6 | g | 2,2 | 0,0064 g |
| – including saturated acids | 0,6 | g | 3 | 0,0024 g |
| Carbohydrates | 10,1 | g | 3,8 | 0,0404 g |
| – including sugars | 5,1 | g | 5,6 | 0,0204 g |
| Fibre | 59,6 | g | – | 0,2384 g |
| Protein | 11 | g | 22 | 0,044 g |
| Salt | 0,058 | g | 0,9 | 0,0003 g |
| Vitamin C | 19,25 | mg | 24 | 0,077 mg |
| Vitamin E | 3,14 | mg | 26 | 0,0126 mg |
| Folic acid (Vitamin B9) | 630 | µg | 315 | 2,52 μg |
| Vitamin B2 | 0,61 | mg | 43 | 0,0025 mg |
| Zinc | 4,35 | mg | 43 | 0,0174 mg |
| Iron | 26,54 | mg | 189 | 0,1062 mg |
| Chromium | 19,26 | µg | 48 | 0,0771 μg |
| Molybden | 15,08 | µg | 30 | 0,0604 μg |
| Phosphorus | 222 | mg | 31 | 0,888 mg |
| Selenium | 49,75 | µg | 90 | 0,199 μg |
* Nutrient reference value for an average adult person (8400kJ/2000 kcal)