VIRUMIN OPTI
herbal mix
SUPPORT FOR YOUR EYES
VIRUMIN OPTI is a unique combination of the fruits of the earth, that is buckwheat hull (38%), dried fruit, bilberry, hibiscus and carrot root, which constitute a natural support for the organism of a busy person of the 21st century. VIRUMIN OPTI is for people who work in front of a computer a lot, watch television in excess, for the elderly, students, as well as drivers who spend a lot of hours in a car. The composition of VIRUMIN OPTI has been enriched by dried fruit and became a perfect alternative to teas and juices consumed every day. The sophisticated taste and flavour of the VIRUMIN OPTI infusion encourages to use it regularly in everyday diet.
High content of dietary fibre
VIRUMIN OPTI contains:
Bilberry which positively influences the health and normal functioning of the eyes, thanks to antioxidative action and supporting the functioning of the veins. Antioxidative anthocyanins contained in bilberry help to keep a normal functioning of the retina and contribute to the stabilization of a healthy level of collagen in the eyes.
Hibiscus flower which helps in the case of fatigue. It supports the vitality of the organism and nourishes it. It also positively influences the health of blood vessels and veins.
COMPONENTS:

buckwheat hull (36%)
hibiscus flower (30%)

bilberry fruit (10%)

blackcurrant fruit
wild rose fruit (7%)
carrot root (6%)
PREPARATION:
Put a bag of VIRUMIN OPTI in a cup or a mug and pour freshly boiled water (not boiling water) over it. Water temperature approx. 80°C. Brew for 5 to 10 minutes.
Brew a cup or mug

Water temperature approx. 80°C.

Brew for 5 to 10 minutes.
APPLICATION:
Three times per day, one bag, 30 minutes before each main meal.
Store in a dry room, in room temperature. Protect from light. Keep away from children.
Three times a day 1 sachet
NUMBER OF PORTIONS IN A PACKAGE:
Healthy lifestyle and well-balanced diet is very important. A beneficial effect can be observed in the case of everyday consumption of bilberry and hibiscus contained in the infusions from three bags of the product. The product and name are reserved in the Patent Office of the Republic of Poland.
Packaging made from natural materials:
cotton, leather bottom. You can use storage porridge, rice, beans and so on.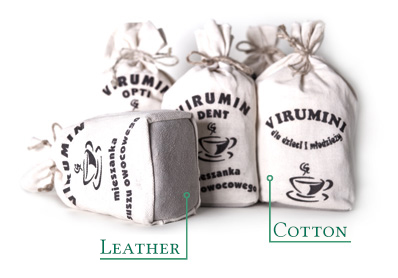 The product and name are reserved in the Patent Office of the Republic of Poland.
| Information on the nutritional value | Contents in 100 g of the product | % RWS* | in 2.5 g (portion |
| --- | --- | --- | --- |
| Energy content | 890 kJ/217 kcal | 17 | 23 kJ/6 kcal |
| Fat | 1,8 g | 2 | 0,045 g |
| – including saturated acids | 0,2 g | 1 | 0,005 g |
| Carbohydrates | 15 g | 6 | 0,373 g |
| – including sugars | 4,8 g | 5 | 0,12 g |
| Fibre | 60 g | – | 1,5 g |
| Protein | 5,3 g | 11 | 0,16 g |
| Salt | 0,02 g | 0,3 | 0,00045 g |
*RWS- reference nutritional value for an average adult (8400 kJ/2000 kcal)
Mixture VIRUMIN OPTI contains 10 g / 100 g of blueberry and 30 g / 100 g of hibiscus flower.